#HebbingToTheChapel
Love is the Greatest Adventure
We took our first walk down the aisle at Ben & Kelsey's wedding in June 2015. Shortly after a fun Fourth of July weekend in Chatham, we went on our first date at Carrie Nation for "Sinatra Night." Not long after our first date, we were spending every afternoon and weekend together. A trip to London and Paris in October 2015 was a romantic whirlwind and provided the perfect setting to say I love you for the first time on the famous love lock bridge. The past two years have been full of adventures: Mardi Gras in New Orleans, multiple friends' weddings, another trip to London, a brisk winter weekend in Copenhagen, the Indy 500, and moving in together! We are so excited for October 20, 2018 as we take the next step in our adventures together!
Ceremony & Reception

Saturday, October 20, 2018
3:00 PM
Ceremony
First Congregational Church of Chatham, UCC
650 Main St, Chatham, MA 02633, USA
Reception
Wychmere Beach Club
23 Snow Inn Rd, Harwich Port, MA 02646, USA
Reception Immediately Following Ceremony.
Shuttle will be provided from the Church to Wychmere.
To allow all wedding guests, including parents, a night of relaxation and uninhibited revelry, we respectfully ask that no children attend the ceremony and reception. Thank you.

Welcome Party
Bistro on Main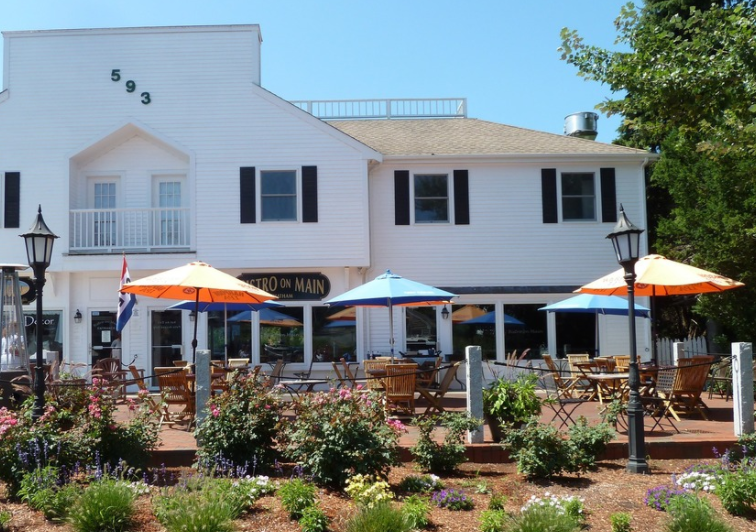 Friday, October 19, 2018
8:00 PM
Bistro on Main
593 Main St, Chatham, MA 02633, USA
Family and friends please join us for cocktails and dessert at the Bistro on Main.

Please arrive by 9:45pm to participate in a very special New Orleans wedding tradition!
We respectfully ask that this is a kid free evening.
Wedding Party
Kelsey Smith - Matron of Honor
My mom always says I was the first person to make Kelsey laugh by acting silly and making faces at her. Years later, she is still the one that brings out the silliest part of my personality. Kelsey was never the litte sister I was forced to let tag along. From barbies to parties we always had the most fun together. Starting when I got my license Kelsey figured out what I like to call the "I'm the little sister and forgot my wallet trick." Her lack of wallet never bothered me, so whether it was the dunkaccino in 7th grade or lunch last week, I was happy to pick up the tab as it meant spending time together. It's because of Kelsey (and Ben) that I know Jay, for which I am eternally grateful and likely forever indebted .
Kirsten Durocher - Maid of Honor
For two years Kirsten thought she was destined to be an only child. Fact is, the day I came home from the hospital she was "kissing my hand" when suddenly my fingers were bleeding and I was promptly taken back to the hospital. Minus that minor incident, Kirsten is the quintessential big sister. She is loving, protective, and supportive of me and Kelsey. As my big sister she was required to share a lot with me: her parents, her room, her car, and our apartment in Boston for 6 years. Even though she often reminds me that I'm weird, I think she finds my personality endearing as no one gets as many laughs out of my quirks as she does. I am grateful for the laughter we have shared throughout our lives and the guidance she has and continues to provide as my big sister.
Kristina Callen - Bridesmaid
I met Kriz while working at Jackie's in the summer 2004. Our mutual love of summer, Lighthouse Beach, Fourth of July, and Chatham made us fast friends. For 13 years we have spent countless nights dancing at the Squire, enjoying impromptu road trips, and against my Dad's suggestion attending a few too many afties. My sisters lovingly nicknamed Kriz "Kimmy Gibbler" due to her affinity for sleepovers at 20 Soundings, even though she lives just a mile down the road. We might not get to spend the entire summer in Chatham these days, but you can still find us enjoying weekends on the beach with a twisted tea.
Kate Hession - Bridesmaid
Kate and I met freshman year at Deerfield. As varsity athletes we missed the hall trip to Salvation Army to buy costumes for the DeNunzio Disco, the annual first dance, so we banded together to get costumes in Greenfield and a great friendship was formed! Early breakfasts at "our table," movies on Friday nights, walks to the sugar shack, a couple of classes, and living on the same hall are just a few reasons why Kate is part of almost all my best Deerfield memories. Nearly two decades later Kate and I aren't together as much as we were in our Deerfield days, but the excitement of getting together is just like that first trip for disco costumes!

Madison Hebb - Bridesmaid
Madison is Jay's little sister and I am excited to officially have her as my third sister on October 20, 2018. I am certain it was having Madison, a cute, friendly, genuine little sister that made Jay the protective, kind, and loving person he is today. I have been lucky to spend time with Madison in Boston, Amherst, and Chatham over the past few years. Kriz always reminds me how lucky I am to be gaining such a cool sister-in-law. I am so excited to have Madison stand with me (and Jay) on our wedding day and I look forward many more years of memories together.
Sam Hebb - Best Man
Sam is a great brother and despite being two years younger than me, at this point most people may think he is older, given his cool, steadfast, and rational behavior relative to my own more "head in the clouds" approach. Growing up, Sam was always the first to throw on the goalie pads as I ripped shots at him in the driveway or throw on his catchers gear, while I whizzed pitches at him in the backyard. Sam has always been there for me when I needed someone to talk to or needed some one to help bring me down from being in the clouds with a ridiculous idea. Never hesitating to lend a hand or help whenever I've asked, its hard to ask for anything more from a sibling. I'm excited to share this day with him and proud to call him my best man.
Carter "Buck" Hebb - Groomsman
Carter, known more colloquially as "Buck" likely needs no introduction. Most of my friends already know the celebrity that is "Buck and Chuck" or BigBuckles14, for those of you that are on Instagram and likely get all of your sports updates from him. Buck has always been one of my biggest supporters, from remembering my Little League plate appearances to helping out with the football team at Amherst College. A genuine, fun loving, caring brother, he is always upbeat and keeps me up to date on all of the latest pop culture and sports news. Always my teammate, when playing street hockey and wiffle ball growing up.
Charles "Chuck" Hebb - Groomsman
Truly with no need for introduction, the other half of "Buck and Chuck," Chuck is my "GQ" brother. Always keeping me up on the latest fashion trends and "swag," making sure to let me know when my jeans were just a little bit too tight. A loving brother, always up for anything whether it was street hockey outside (breaking all the garage windows, sorry mom and dad), scootering down the hill up at the lake, searching for muscle cars or just shooting the breeze while enjoying a scotch, Chuck has always been game.
Ben Smith - Groomsman
Ben has been my best friend since we were defensive partners on our mites hockey team. This led to countless road trips, mini hockey games, and the consumption of tons of novelty ice creams. We spent so much time together our parents referred to us as "The Tweedles." Ben and I have always found brotherly competition in one another on the ice, on the court, and on the beach at the Vineyard. We pushed each other to be better, while sharing incredible memories and even some bad ideas, which resulted in my getting hurt (ie. my short lived "semi-pro" lacrosse career). But not all of our ideas were bad, it was Ben's (and Kelsey's) idea to introduce Kara and I, and for that I will be forever grateful. After over 20 years of fun, friendships, and what many would consider brotherhood, I am honored to have Ben as one of my groomsmen and to officially call him my brother (in-law).
Andrew Cohen - Groomsman
I met Andrew as a junior at Suffield Academy. He came down to my dorm room with a pack of black & white cookies and numerous bags of candy. Anyone who knows me, knows I have a sweet tooth, so this was a friendship sparked in the land of confectionary treats. From then on, we were the best of friends, playing basketball, video games, hanging out in the dorm and spending weekends in Stanford and New York. I can't recount many high school memories that don't involve Andrew, his great sense of humor and ability to be friends with everyone. We were on different coasts in college and in different cities now, but Andrew has always remained one of my closest friends. I'm honored to have him as one of my groomsmen.